When Reading Feels Like a Waste of Time
Written December 4, 2017, as a reflection on Year of the Pilgrim
By Marcie Stokman
---
In an interview, Bishop James Conley from Lincoln, NE, once said: "All of us who wish to bring forward a renewal of Christian culture in our world should begin on our knees, in prayer. But we must also begin with books in our hands, being formed in the great tradition of the classical mind."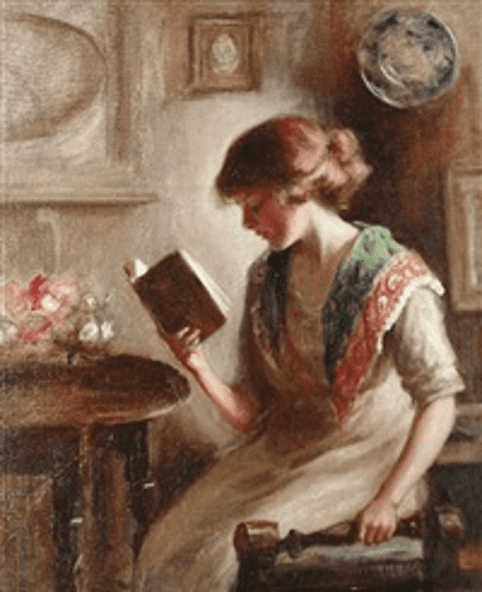 You acclaim the benefits of reading; in fact, you're convinced that we need to read more as a society. Yet, in the secret recesses of your heart, there is tension. For a woman wearing many hats and juggling many activities, reading a novel seems like a waste of time.
Isn't there more important work for a woman than reading Frankenstein or all 985 pages of The Brothers Karamazov? Maybe next month would be better for tackling Dostoevsky with everything we have going on.
Yes, of course, next month! The hammock lodged in an upstairs closet for twelve years due to missing hardware will magically be hung and call my name! Next month, the weeds won't grow, and the milk won't spill. Next month the long-awaited reading reprieve will materialize!
Don't be fooled. Do you want to know the secret to being a reader? Here it is. When you don't have time to read, read. It's that simple. Reading is a decision.
Without this decision, we fall prey to the deeply held belief that, as women, we must keep moving and doing. We fall prey to what Piper, author of Leisure: The Basis of Culture, calls "total work." We tend to overvalue the sphere of work.
Because of Well-Read Mom, I've been more faithful than ever before to reading. Yet still, every month, the inner wrestling begins. It's work to pick up Frankenstein. I struggle to focus, concentrate, and comprehend. Gradually, however, I enter the story. I see Victor Frankenstein lured into the zone of "total work," leaving leisure time and meaningful relationships behind.
In the world of great literature, my imagination is educated. Through Victor Frankenstein, Piper's idea of "total work" takes on flesh. I see myself in a new way and realize that I need time to read, think, grow, and thrive. I once said to my daughter-in-law, Lisa, "Moms need a space where Choo-Choo Bob can't enter!"
It is a gift to be accompanied by courageous women who are willing to persevere against the cultural tide to make time to read classics and worthy books from our tradition. Our members' letters verify that reading is not a waste of time but a time renewal.
---
About Well-Read Mom
For our Tenth Anniversary, the reading list put together by Well-Read Mom reflects on the theme of family. In Well-Read Mom we desire to create a place for women, not to escape from family life and work, but to experience a kind of leisure through friendship and literature so that women can return to their lives with a renewed vision and vigor. By reading books together, we help sustain a tradition of reading, which is a gift not only to our families but to the world. We hope you'll join Well-Read Mom for our Year of the Family. Find out more.