Transformation Through the Guidance of Sisterhood
Written by Colleen Hutt
---
Following Jesus. Isn't that what we all long to do each day? I don't know if you are like me, but sometimes the how of the matter isn't so clear. How do I love my teenager who is withdrawing from me? How can I follow Jesus when others in my family don't seem to have the same desire? How do I follow Jesus when I am discouraged with the crosses He gives me? How do I follow Him in the grief of loss and loneliness that is sometimes part and parcel of my experience as a mother? How do I love Him well when the path is unclear, and my efforts do not always put forth success?
Again and again, the answer is found when I return to Jesus' simple words, "Follow me." Each year, the processional cross leads the way for the Well-Read Mom pilgrims, and for three days, we follow behind—step by step. This image lies in my heart, and when I struggle to know what to do in my daily life or what next step to take, I return to the image from the pilgrimage of literally following the cross—take one more step. Just one. Then another. I continuously look up and see the community of women who have said "yes" to this profound "time-out" from the work-a-day world to follow Him in simplicity and silence. I realize I take a lot upon my heart each year. The pilgrimage experience is my coveted time to pour out my heart to the Lord.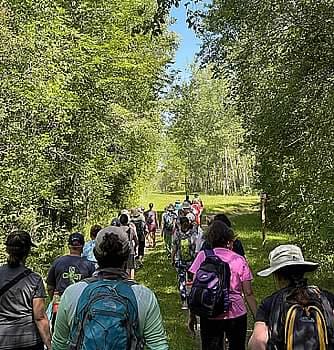 I remember experiencing the pilgrimage vividly. We had a record 58 WRM women from around the country make their way to Francis Cree, WI, to begin a journey to the Shrine of Our Lady in Good help in Campion, WI, where in 1859, the Virgin Mary appeared to a young girl named Adele. We begin in prayer and set out following the cross, filing in two by two. We walked the first several hours wondering if we would make it, what the snack would be at our first stop, if there would be bathrooms—all the practical concerns that weigh down our lives as mothers. But then, we rested, and each woman shared why they said "Yes" to God's invitation to attend this pilgrimage. We went around the circle bearing our intentions for ourselves, our families, and others. It was at this moment we became sisters. Each woman understood that we needed this pilgrimage not only for ourselves but also to carry the intentions of our newly formed sisters to Mary's feet. The practical details became secondary to following the cross, one step at a time. We became both Martha and Mary to each other—caring for and attentive to each other's needs while recognizing Christ is always before us.
It was then I realized I have a lot to say to the Lord, but even more profoundly, I have a lot to receive from Him that can only be done once my words have been spoken, and the silence begins. I was transformed by "walking out" my thoughts, hopes, and fears. My worry transformed into faith, my need for control transformed into following the cross at every step, and my speech changed into prayer for my family and friends and the intentions of those dear WRM pilgrims who became my spiritual sisters. I was reminded, on the road, that Jesus does not promise "success" but only asks us to remain faithful. Faithfulness became my one desire, which renewed itself with every step. In his "Letter to Artists," St John Paul II said, "Every genuine intuition goes beyond what the senses perceive and, reaching beneath reality's surface, strives to interpret its hidden mystery. The intuition springs from the depths of the human soul, where the desire to give meaning to one's own life is joined with the fleeting vision of beauty and the mysterious unity of things."
When I was on the road walking through dense foliage at summer's zenith, I contemplated how heavy my branches had become by supporting the life of those in my family. I knew that they would change color and drop their leaves when the branches became too full in a few months. I, too, needed to drop the weight of what I was carrying and let Christ re-make me. I wondered at this community of women who shared this desire to encounter Christ through His mother, Mary. These women walked next to me, prayed for my needs (and I for theirs), and offered deep companionship. Many miracles were granted by the prayers offered in recognition of the mysterious unity of all our lives.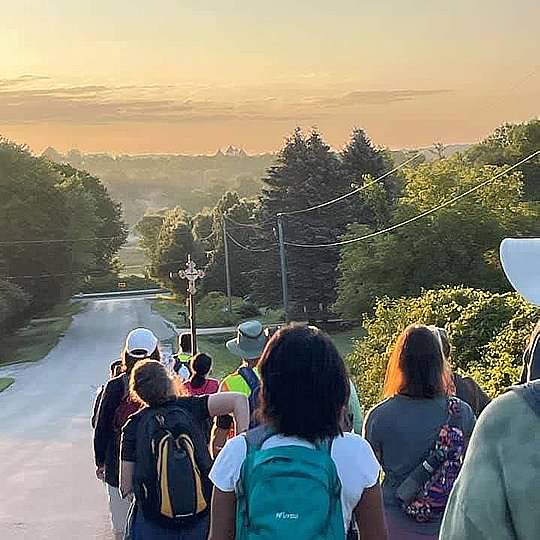 On our second and most strenuous day, we were glad to arrive at St. Thomas Parish to see pans of lasagna brought in to revive us. The caterer stopped me in the kitchen and told me, "It has been eye-opening to see you women walking these streets toward the Shrine. It reminds me of my grandparents, who helped build the Shrine. I had forgotten how often we used to go there. These women remind me of my Grandparents and how I should return to the Shrine with my kids more often. My Grandpa used to tell me all the time as a boy, 'Miracles happen here! Of all the places Mary could have appeared in the world, she chose right here.'"
Since that pilgrimage, a desire arose in me to remember this experience more fully throughout the year—throughout my life. Many women and I became inspired and began offering our Fridays to fast and pray for each others' families. We now offer some type of fasting each Friday (even if it is small), and we commit to praying the Divine Mercy Chaplet at 3 pm to conclude our spiritual communion. It was an immense blessing because it has opened my heart to the many needs in our WRM family. It has reminded me more intensely of the unity we share and how love can grow through the smallest of offerings. We have a God who comes to us daily in the Eucharist and who sends his mother to draw His people back to His Heart. We are never forgotten; miracles happen here! We have sisters, and we are a family in Christ, not because of the individual "success" of our lives but because of our faithfulness to Jesus and those who walk with us together along the way.
---
Interested in joining the Well-Read Mom Pilgrimage 2023?
---
About Well-Read Mom
For our Tenth Anniversary, the reading list put together by Well-Read Mom reflects on the theme of family. In Well-Read Mom we desire to create a place for women, not to escape from family life and work, but to experience a kind of leisure through friendship and literature so that women can return to their lives with a renewed vision and vigor. By reading books together, we help sustain a tradition of reading, which is a gift not only to our families but to the world. We hope you'll join Well-Read Mom for our Year of the Family. Find out more.