The Gift of Story Reveals The Giver
By Nicki Johnston
---
To incorporate my family even more into my WRM reading life, I invited my nine-year-old son to have a mother-son book club about the WRM Family Supplement's November selection: The Extraordinary Education of Nicholas Benedict.
I was delighted by this novel, which centers upon the eponymous hero as he arrives at a new orphanage, including his quest for rumored treasure. I don't want to give away too much of the plot because I hope you'll read it for yourself, whether you do so with a child in your life or on your own, but I want to share part of my favorite scene in which Nicholas finds himself alone in an abandoned observatory. This sad, lonely boy, without family or friends, looks up at the sky and is "awestruck":
Never had the stars been so bright, the moon so enormous and richly glowing. This is mine, Nicholas thought, and he meant not just the observatory but the sky, the night, the freedom of the world beyond the orphanage walls. He had not expected to think such a thing. He was merely expressing to himself the feeling, the most delicious feeling, that had arisen in him spontaneously. A breeze seemed to have arisen, too. Opening the roof panels must have created a draft. It fluttered Nicholas's collar and made his eyes water, blurring the stars. And then the sensation of tears seemed to trigger a sort of emotional reflex, for the next thing he knew, Nicholas was truly crying, which surprised him. He sat down at once […] And then he lay back completely, still gazing up at the blurry, twinkling stars, and for a long time he continued to cry, and for once he did not care.

Trenton Lee Stewart 178-179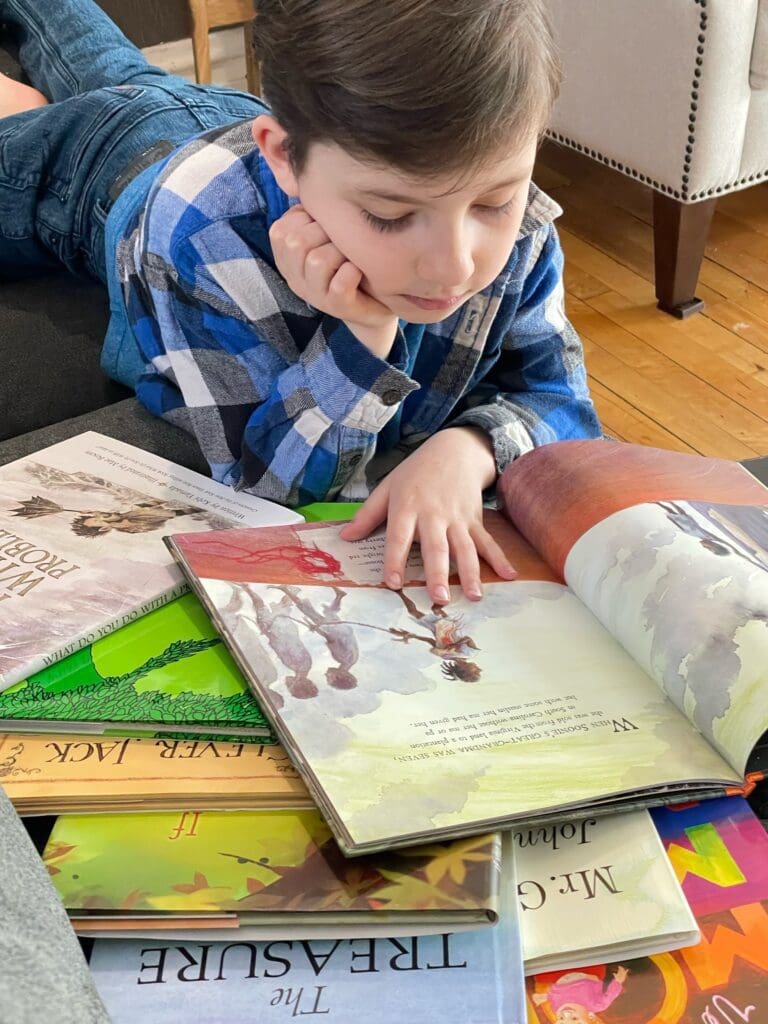 This portion of the story reminded me of the beginning of Two Old Women, in which we read that Ch'idzigyaak "stood for a moment staring up at these wonders. In all her years, the night sky never failed to fill her with awe" (Wallis 21).
In both stories, we see wonder and awe within God's creation and how it beautifully manifests in the stars of the heavens. For both of these characters, each lonely and afraid, seeing the stars gives them hope and a sense of belonging. They intuitively understand that they have been given something without explicitly naming Him. And a gift necessarily implies a giver.
In Catechesis of the Good Shepherd, we offer the 6-9-year-old children a beautiful work called "The History of the Gifts," in which the children explore a treasure chest full of items and pictures that help them to marvel at the goodness of creation as God's loving gift to humankind. After looking through boxes of fragrant herbs, beautiful geodes, starfish, sea stars, dried flowers, and photographs of constellations, animals, people, and more, the children meditate on the greatest gift, the gift of God's self in Jesus and His ongoing presence to us in the Eucharist. This beautiful work allows children to wonder at The Giver and His tremendous gifts.
The children in the Atrium know the love of the Good Shepherd and know who The Giver is, but the characters in these books do not. Yet, some spontaneous knowing allows both of them to realize that the stars in the sky belong to them.
So, of course, do stories.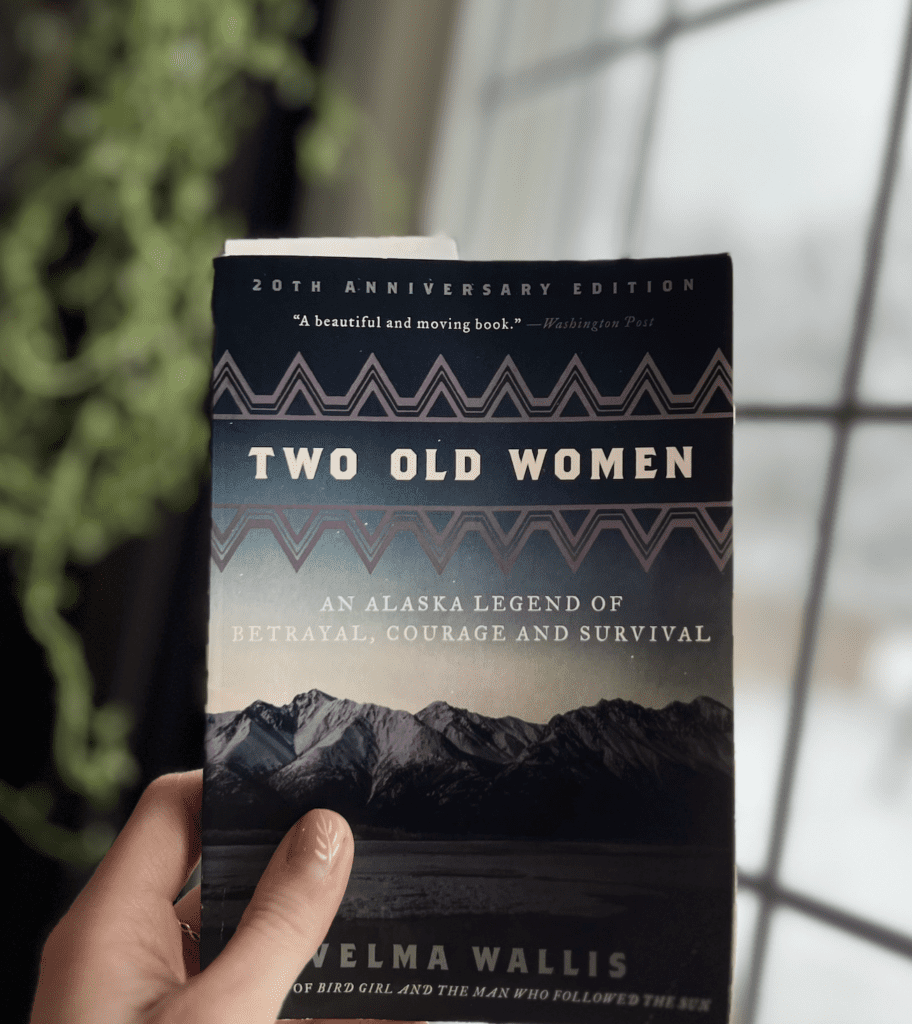 In the introduction to Two Old Women, Velma Wallis tells us about her response to first hearing this legend. "I was impressed with it […] because it was a story about my people and my past – something about me that I could grasp and call mine" (Wallis XVI).
The story was passed on to Wallis by her mother through oral tradition which used to be the norm. "Stories are gifts given by an elder to a younger person. Unfortunately, this gift is not given, nor received, as often today" (Wallis XVI).
We see this sad truth embodied in the book, not because of television or fast-paced modern living, as Wallis cites, but simply out of habit.
When the two old women face abandonment by their people, they "had not known each other well […] They had been two neighbors who thrived on each other's bad habit of complaining and on sharing conversations about things that did not matter […] They did not know how to converse in companionship" (Wallis 50-51).
Thankfully this status changes throughout the course of the book. As the two women cease dwelling on their own thoughts and start to consider—and offer themselves to—each other, they become true friends. They share their own stories and remember their childhood that had been lost to the larger group.
When the two women eventually reintegrate back into the group, they revive this sharing with The People. As children and others travel the "well-trodden path" between the two camps, much of what had been lost was regained. "Laughter and light-hearted chatter could be heard from inside the shelter," and the women who once were perceived as a burden were now the respected elders who were sought "for advice and to learn new things" (115). The children, including Ch'idzigyaak's grandson, go to the women specifically to hear their stories.
Stories, like the stars, belong to all of us. Nicholas Benedict comes to know the tremendous gift of stories and friendship just as Ch'idzigyaak, Sa', and The People do. It's the same gift that we receive by participating in Well-Read Mom. We allow ourselves to be given the gift of the story; we share it by conversing in companionship with our families and groups. Then, by receiving what belongs to each of us, we also give ourselves away. In doing so, we receive The Giver himself.
---
About Well-Read Mom
In Well-Read Mom, women read more and read well. Our hope is to deepen the awareness of meaning hidden in each woman's daily life, elevate the cultural conversation, and revitalize reading literature from books. If you would like to have us help you select worthy reading material, we invite you to join and read along with us. We are better together! For information on how to start or join a Well-Read Mom group visit our website wellreadmom.com