Giving with Empty Hands
Written By Jenna Miller
---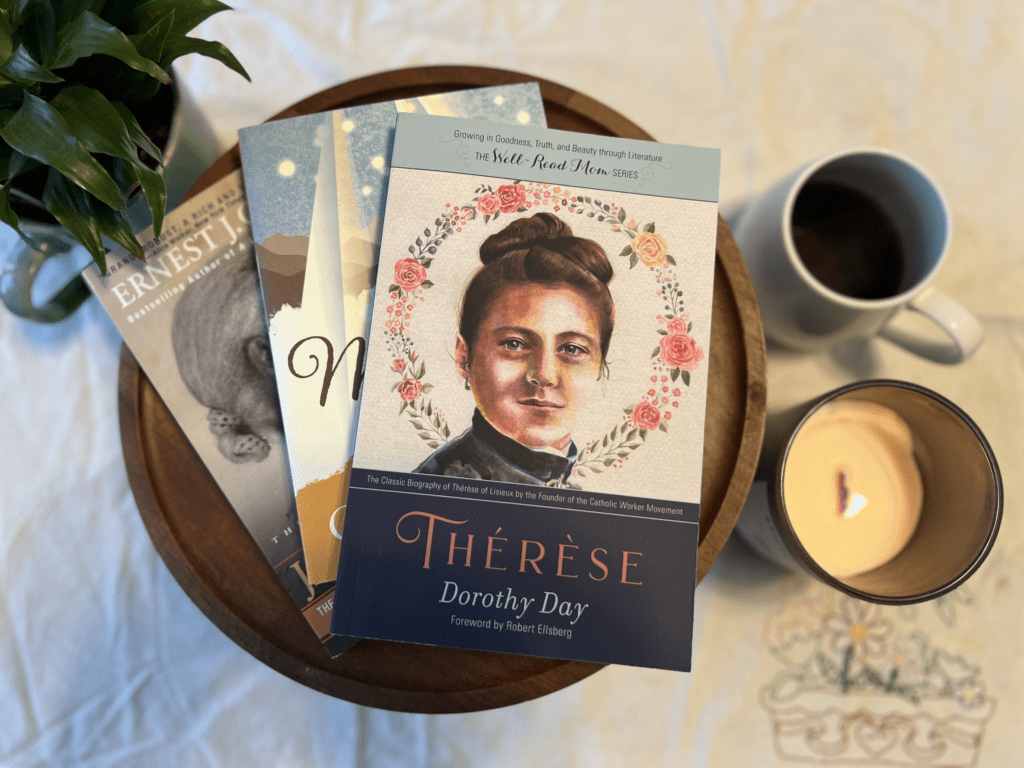 I came to my first Well-Read Mom conference this past fall, feeling something like the line in the song, "I Heard the Voice of Jesus Say," that is: "weary, worn, and sad." My responsibilities as a wife, mother, and parish ministry worker sometimes weighed heavily on me. Listening to Marcie's talk about the roots of the Well-Read Mom, including that moment she had in the coffee shop when she was "supposed" to be at her son's cross-country meet, hit the heart of my experiences and made the tears stream down my face. I had read about this giving moment in Marcie's life in her book, The Well-Read Mom, but I loved hearing about it again while sitting with a couple of hundred women in the audience, sharing that moment of understanding.
There are so many ways to give and so many needs. We Catholic wives and mothers often are trying, or needing, to give from empty hands. On the one hand, there's giving from hands that are empty because we have tried to meet the chorus of needs in front of us by working harder, sleeping less, and making sure everyone else eats first. We try to bring love and richness into everyone's lives, and we pick up the slack for everyone else who doesn't do their part or cares less that we are running on empty.
On our parish's carved altar, there's a pelican figure because of the legend that in times of famine, the bird would pierce its breast to feed its young from its blood. It's a great symbol of Jesus' self-sacrifice in the Eucharist. However, sometimes we moms take that image a little out of whack. Even if we have a glimmer of hope that taking care of ourselves is essential to being a mom, wife, and Christian, there's a lingering doubt that maybe that's selfish. Perhaps we should be giving of ourselves to the point of feeding people on our own blood, even if it means our death. The problem with that situation is that there will be no more Mom, wife, or Christian on the scene to be that critically important person in the lives of those we love.
On the other hand, Dorothy Day and St. Therese offer relief: another way to give from empty hands. Dorothy Day knew about the daily grind of trying to help when it feels like a drop in the bucket, and the (as people often quote) "filthy, rotten system," the various methods of de-humanizing the world through the way she lived and worked in voluntary poverty alongside people. She knew about empty hands, but she offered her view into the story of St. Therese as hope for all of the people "who feel hopeless and useless, less than dust, ineffectual, wasted, powerless."
I think Day understood that the idea that "the poor are always with us" doesn't just mean the human mystery that there will always be people around without enough money, food, or resources to support themselves. It also can mean that if we're honest, we must confront our impoverishment, always be poor, and carry a sense of poverty. This sense of our own poverty keeps us in a just relationship with our Creator; it keeps us from taking credit for things when everything we have is already a gift from God; it keeps us grateful.
Our hands can be empty because we've given away everything we collected to handle responsibilities, people, and projects. Or, our hands can be empty because we live out of an awareness that anything in our hands was not ours to begin with.
St. Therese's Little Way is about that second kind of empty hand. Day quotes what Therese said less than two months before her death from tuberculosis:
"To be little . . . is . . . not to attribute to ourselves the virtues we practice, nor to believe ourselves capable of practicing virtue at all. It is rather to recognize that God puts treasures of virtue into the hands of his little children to use them in times of need, but they always remain treasures of the good God."

St. Therese
---

Jenna Miller
Jenna Miller lives and homeschools on a central MN hobby farm with her husband and children while also working in parish ministry. Interests that keep her going include the cello, reading theology, making things, praying, trying to communicate with Spanish speakers at her church, listening to Christian alternative music, and, of course, reading.
About Well-Read Mom
In Well-Read Mom, women read more and read well. Our hope is to deepen the awareness of meaning hidden in each woman's daily life, elevate the cultural conversation, and revitalize reading literature from books. If you would like to have us help you select worthy reading material, we invite you to join and read along with us. We are better together! For information on how to start or join a Well-Read Mom group visit our website wellreadmom.com