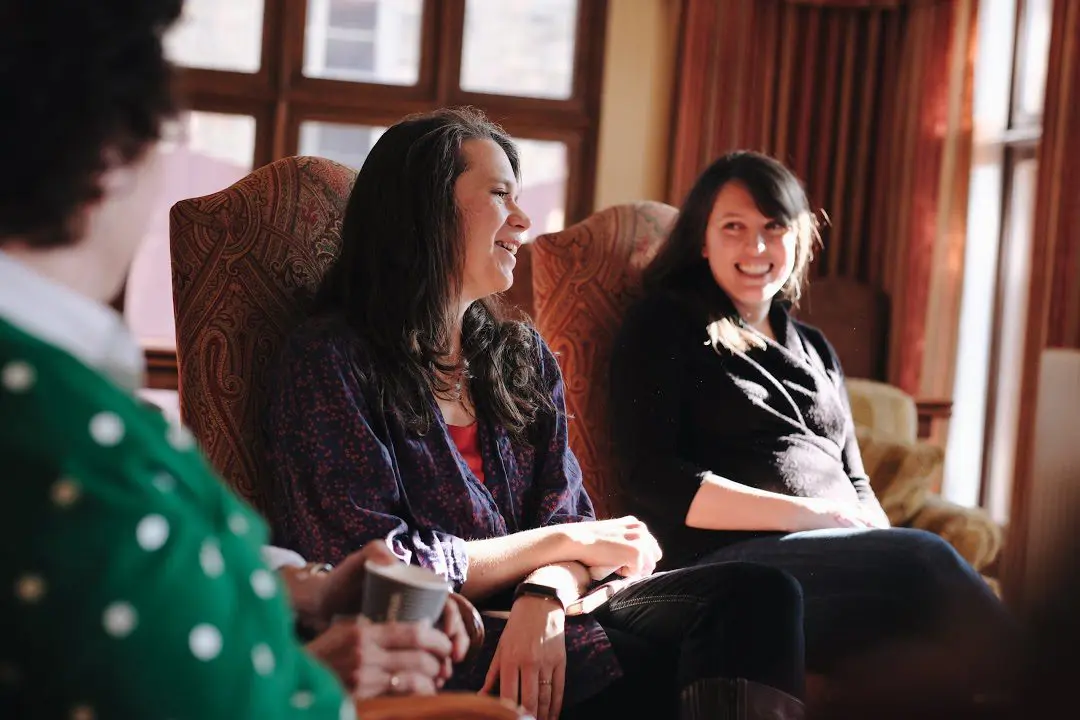 Thank you for saying "yes" to helping women to read more and read well. Well-Read Mom makes it easy to lead a group.
We'll walk with you every step of the way from inviting the women, hosting an informational meeting, publicizing your group, helping the women get registered, and running a low-stress and meaningful meeting.
Take a look at our leader resources, and feel free to reach out to us at any time with questions.
Step 1:
Register here.
As part of the process, you'll be able to identify yourself as a leader, designate your group as "open" or "closed" to new members, and let us know if your group plans to meet in person or virtually.
Step 2:
We will add you to our leader list. Then, your friends can select you as their leader when they register. This way, we won't contact your group members during the year to try to connect them with another group.
Step 3:
Access Our Leader Materials
Review the following leader materials and free downloads at the bottom of the page. If you'd like printed copies to share, you can purchase a LEADER PACK (coming soon!) in our Store.
Step 4:
Invite Friends
These could be relatives, moms, neighbors, teachers, co-workers, etc. Women can be of any age and stage in life. We understand "motherhood" in the broadest sense as the generative capacity of all women.
Step 5:
Publicize Your Group
We have a customizable flyer, brochures, and registration forms at the bottom of this page that you can use.
Take a risk and share the invitation. Even a handful of women can make for a wonderful experience. We are better together.
We are sincerely grateful for our leaders and the unique role you are taking. We want to do our best to ensure that all leaders have what they need to be successful. Here's what we're asking of you:
We are sincerely grateful for our leaders and the unique role you are taking. We want to do our best to ensure that all leaders have what they need to be successful. Here's what we're asking of you:
INVITE the women into this experience of friendship and organize the details of the meetings.
CONNECT the women by helping them register with Well-Read Mom.
CLEARLY PROPOSE the model of Well-Read Mom which invites women to explore the annual theme through monthly reading selections.
FOLLOW the Well-Read Mom method: accompany, read, compare, and share by using our monthly audios and printed materials.
FOSTER FRIENDSHIP among the women by facilitating the group in a way that encourages respectful and thoughtful dialogue.
For this informational meeting, you'll need:
- this printable, editable Well-Read Mom flyer to publicize your meeting
 - internet access and a computer or internet-ready television to share the following video and audios
- registration flyers to hand out at the meeting or direct the women to register online at www.wellreadmom.com
So, grab a hot cup of coffee or an ice-cold lemonade and let's get started!
Our typical Well-Read Mom meeting is one hour and fifteen minutes and follows the same format each month.
This informational meeting is modeled after the monthly meeting but will last only about 45 minutes.
Introductions (10 minutes)
At your meeting, explain your interest in starting a local Well-Read Mom group. After you welcome the women and introduce yourselves (if needed) you can dive right in. If you like, the women can also share their favorite book in their introduction.
 Leader: Each monthly meeting opens with the leader playing the monthly audio from the Well-Read Mom website.  Today, in this welcome audio from Well-Read Mom founder Marcie Stokman, she will succinctly share the mission and vision of Well-Read Mom, along with the one Well-Read Mom "rule."
2.  Play welcome audio from our founder, Marcie Stokman.
Leader: Next, we'll watch a short video that shares how and why Well-Read Mom began to give us an idea of how the mission of Well-Read Mom is different from other book clubs.
Leader: It's hard for many of us to figure out how to take the time to read. Next, we're going to listen to a 10-minute audio by Marice about how we can make time to read.
Play the audio  "Three Ways to Make Reading an Intentional Interruption" and continue with group discussion (20 minutes)
Leader:  Now we have some discussion questions about what we've heard so far.
Questions
What intrigues you about the idea of reading as an intentional interruption?
Have you ever seen a situation in your life in a new way as a result of something you've read?
Do you think this would work in your area? Where or how could you meet?
Leader: In order to get a sense of what the Well-Read Mom experience entails, we'll watch a brief slideshow that shows more concretely what it is like to be in a group.
5. Show the slideshow: The Well-Read Mom Experience (3 minutes)
*If women have more questions, please consult our Frequently Asked Questions.
Leader: We close each of our meetings with an audio that introduces us to the next month's read, why it was chosen, what to look for, and how it fits into the theme of the year. Today, we will close with this brief audio that explains the next steps you can take to join us.
Play the "Join Us" audio (2 minutes)
Leader: Here are a few housekeeping items. Register by August 1st to receive member materials by September 1st. If you think you might want the membership level that includes all of the books, register as soon as possible, as that level sells out each year.
Women don't need to read anything before the first meeting in September. The materials for that meeting are included in the Well-Read Mom Reading Companion, which you'll receive in the mail after you register.
You can register on the wellreadmom.com website, or fill out the registration form and mail it. 
A few last notes for the leader...
*You can join us at any time during the year and order materials (while supplies last). It's best that the group leaders sign up before the members so that the women will be able to select your name as their leader. And, once you sign up as a leader, we will send you an email to forward to your group with registration information.
Registration forms and payment can be collected and mailed to us at:
Well-Read Mom, P.O Box 502, Ironton, MN 56455
Please make checks payable to Well-Read Mom.
Some practical considerations for getting started (Find our complete Well-Read Mom Leader Guide below)
How do I publicize my group?
You can edit the flyer below and email it, print it, or hand it out to women who may be interested, or even post it on social media.
When you register as a leader, you will be able to choose if your group will be listed as "open" or "closed" to new Well-Read Moms from the public. If you designate your group as open, Well-Read Moms looking to join a group can send an inquiry directly to you through our system.  
When do we listen to the audios?
Listening to the audios together when you gather as a group is vitally important to the Well-Read Mom experience. The audios explain why the book was chosen, the theme, and help jog people's memories. We find those who intend to listen on their own before or after the meeting seldom do and are less connected to the mission of Well-Read Mom. Find the audios on the Monthly Audios page.
 You'll want to make sure you have Internet access at your meeting spot to listen to the audios and watch an occasional video together. If you won't have Internet access, please let us know several days in advance and we can get the resources to you in another format. Contact us for more information.
What books do we read?
Even if you are joining after September, we recommend you start with the current month's selection and finish the year with us. Part of what makes Well-Read Mom unique is that we stay together in the reading. You can read some of the other books during the summer if you like. (Previous year's booklists are available to members.)
The books, including any recommended edition or specific translations, are found on our Booklist page.
How long are the meetings?
Generally, a little over an hour. We recommend you run a timely meeting, and then visit afterward if you like. This gives women the freedom to just attend the meeting, and the meeting is normally a great springboard for continuing conversation.
Here is the recommended format for the monthly meeting:
7:00-7:10 Women gather in a home, parish, or coffee shop, get a cup of tea, and settle in.
7:10-7:15 Leader plays the first recording; a candid, encouraging reflection that helps focus the group and launch the discussion.
7:15-8:00 Group discussion. We recommend an initial go-around where each woman offers a brief thought or reflection from the book (women are free to pass). We have found this initial round generates discussion. Additional questions can be found in the Reading Companion, included in the member materials when you register.
8:00-8:15 Play the second recording introducing the following month's book.
Some more tips
We recommend keeping the evening simple so that hosting does not become an obstacle to meeting regularly. You can offer a pot of tea or coffee. Another member could sign up to bring cookies. Rotate the meeting place as needed.
Thanks again for your "yes" to leading or participating in a group. We are amazed at how women are responding to this initiative.
Leaders, please let us know what other resources would be helpful to you. Just send us a note.